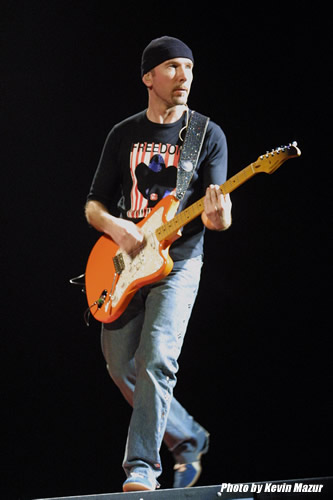 MAKE: Fernandes
MODEL: Decade Elite
VINTAGE: 1996 or 1997
FINISH: Orange (oddly enough, this IS a stock and not custom Fernandes finish). White pearl pickguard.
DETAILS: The guitar has 3 pickups. The neck pickup being the Fernandes Sustainer pickup. This substituting for either the e-bow or infinite guitar system that were previously used for "With Or Without You".
USE: [LIVE]: This was the backup to the sea foam Decade Elite. The Edge did use it for "Discotheque" and "Staring at the Sun" for a few of the early Elevation tour shows. It can be seen during the dress rehearsal for the Elevation tour in the picture to the left. [STUDIO]: I am not sure what exact songs this may have been used in the studio.