MAKE: GRETSCH
MODEL: 6136 White Falcon
VINTAGE: 196x
FINISH: white with gold flake sparkle binding.
USE:
- STAGE: I have not seen any photo or video evidence of The Edge using this guitar in a live setting, other than "Trip Through Your Wires" & "Knockin' On Heaven's Door" (Live) on RTE TV broadcast,
- STUDIO: "Desire" & "Van Diemen's Land" [Both seen in Rattle and Hum]
- VIDEO: "Pride (In The Name Of Love) promo video. "Desire" & "Van Diemen's Land" [Both seen in Rattle and Hum commercial release, VHS/DVD]
OTHER SPECS:
- Bigsby B-6 (V-cutout) tremolo arm. This adornment suggest the vintage being post 1959.
-
Neo-Classic
fret inlays
Starting in 1958, almost all models switched to the "Neo-Classic" markers, also called "thumbnail" or "half moon" markers, and these remained fairly standard through the '60s and '70s on most models. Again, bargain models used simple dot markers.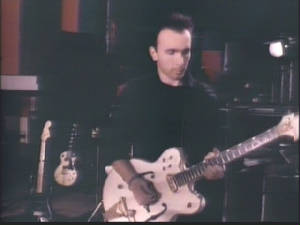 PRIDE (IN THE NAME OF LOVE) [promo video]
WOMANFISH (Edge plays his black Strat) & TRIP THROUGH YOUR WIRES (Edge playing his White Falcon)
Larry and Bono move over to the stage where Adam and Edge are waiting. Bono announces a song called Womanfish, while Larry bangs out a thundering, high-paced drum beat and Edge poduced a cutting guitar riff. According to Bono, the song is about "a mermaid I met once in America"- It has a chorus song in a high-pitched voice: "Love is all you need, love is all..". It remains the only occasion this track has been played.

The next song is a rough sketch of a track that will end up on the album. Introduced as I Tripped Through Your Wires, it's a bluesy number with Bono playing harmonica. It is played much slower than the eventual album version and has different lyrics. "In this town, begin the rebuilding" sings Bono, referring to the many ruins of rundown houses in Dublin which are not being cleared away.
KNOCKING ON HEAVEN'S DOOR (Edge playing his White Falcon)
A shabby version of Knocking On Heaven's Door ends the performance. Two guys from the audience are invited to take over Bono's and Edges parts The guest guitarist plays well but the singer just repeats the song's title over and over again.
VAN DIEMEN'S LAND (Rattle And Hum movie version)
DESIRE (Rattle And Hum movie version)

1962:
Beginning in 1962, The White Falcon switched to the double-cutaway Electrotone body. Along with the new. two-inch thick body came dual mutes, a standby switch and white leather padding on the back.
Body Width

17"

Body Depth

2"

Body Style

Double Cutaway Hollowbody

Colors

White

Fretboard Wood

Ebony

Fretboard Markers

Neo-Classic

Nut

Zero Fret/Bone

Tuners

Grover Imperial

Neck Pickup

"Patent Number" FilterTron

Bridge Pickup

"Patent Number" FilterTron

Controls

Master Volume
Neck pickup volume
Bridge pickup volume
Pickup selector switch
Tone Switch
Standby Switch
Double String Mutes

Bridge

Space Control

Tailpiece

Cadillac G
1964:
T-zone tempered treble debuted on the White Falcon for '64, along with a telescoping arm vibrato (standard) and large button Grover tuners.
Body Width

17"

Body Depth

2"

Body Style

Double Cutaway Hollowbody

Colors

White

Fretboard Wood

Ebony

Fretboard Markers

T-Zone Tempered Treble

Nut

Zero Fret/Bone

Tuners

Grover Imperial with "Kidney Bean" buttons

Neck Pickup

"Patent Number" FilterTron

Bridge Pickup

"Patent Number" FilterTron

Controls

Master Volume
Neck pickup volume
Bridge pickup volume
Pickup selector switch
Tone Switch
Standby Switch
Double String Mutes

Bridge

Space Control

Tailpiece

Telescoping arm Bigsby