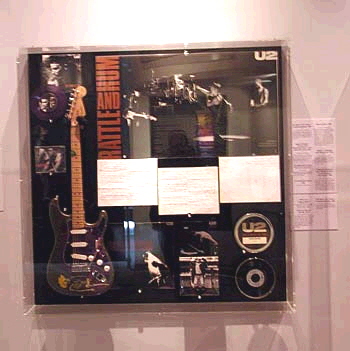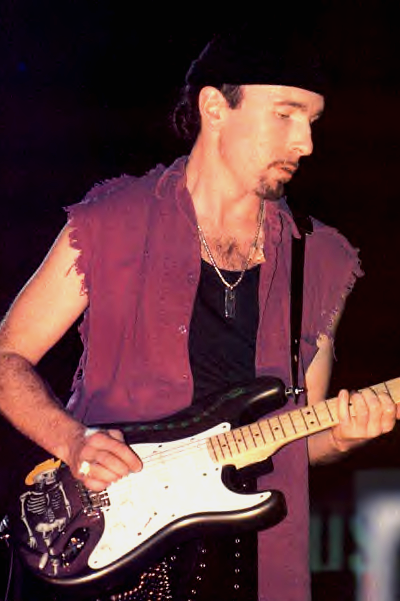 MAKE: Fender
MODEL: Stratocaster / Eric Clapton model
VINTAGE: 1988 or 1989
FINISH: Pewter finish with skeleton and snake graphic by Rene Castro
DETAILS: It has been seen with and without a white pickguard; and had a mauve mirror pickguard when it was on display at the R&R Hall of Fame in 2003. It has (3) Golden Lace Sensor pickups and 25db boost.
USE: (live): "The Fly" & Desire" during the 1992-1993 Zoo TV/Zooropa tours. (studio):I am not sure what exact songs this may have been used in the studio but there are various pictures of The Edge playing this guitar in Hansa Studios during the Achtung Baby sessions. Some of the pictures can be seen in the CD booklet as well as the Musician & Rolling Stone magazine articles that appeared between November 1991 and June 1992.
OTHER NOTES: Is it possible that The Edge had proto-types? Here is my question. Per another article, the original production guitar was available in three colors — charcoal gray, Torino red, and 7-Up green. Per Clapton's request, the color black was not offered initially, but was added as an option around 1991. Alpine white was also added about the time of the "Nothing But the Blues" tour. Edge had a red (didnt' look Torino) and a yellow (Bono called it Vanilla) and then there is the painted one... which may have started out charcoal and not pewter.