MAKE: Fender
MODEL: Stratocaster / Eric Clapton model
VINTAGE: 1988 or 1989
FINISH: Red/white pickguard
DETAILS: This was The Edge's backup to the yellow Clapton Strat during the 1989-19901 Love Town tours. It has (3) Golden Lace Sensor pickups and 25db boost.
USE: This appears to be the Strat that Keith Richards used while playing "When Love Comes To Town" with U2, October 16, 1988 at the Dominion Theatre in London for the "Smile Jamaica" benefit show. I've also seen pictures of Edge playing this guitar some during the Love Town tour. Amongst other tunes, The Edge used this for "Desire" (as in "with a red guitar on fire") and for "All Along The Watchtower" [source: video of the Sept 27, 1989 show in Sydney, Australia]
OTHER NOTES: Is it possible that The Edge had proto-types? Here is my question. Per another article, the original production guitar was available in three colors — charcoal gray, Torino red, and 7-Up green. Per Clapton's request, the color black was not offered initially, but was added as an option around 1991. Alpine white was also added about the time of the "Nothing But the Blues" tour. Edge had a red and a yellow Clapton (Bono called it Vanilla at the Dublin Dec 27, 1989 show) and then there is the painted one... which may have started out charcoal and not pewter.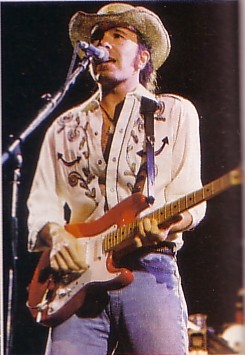 "With a red guitar... on fire"... The Edge playing his red Clapton Stratocaster during the Love Town tour - 1989.